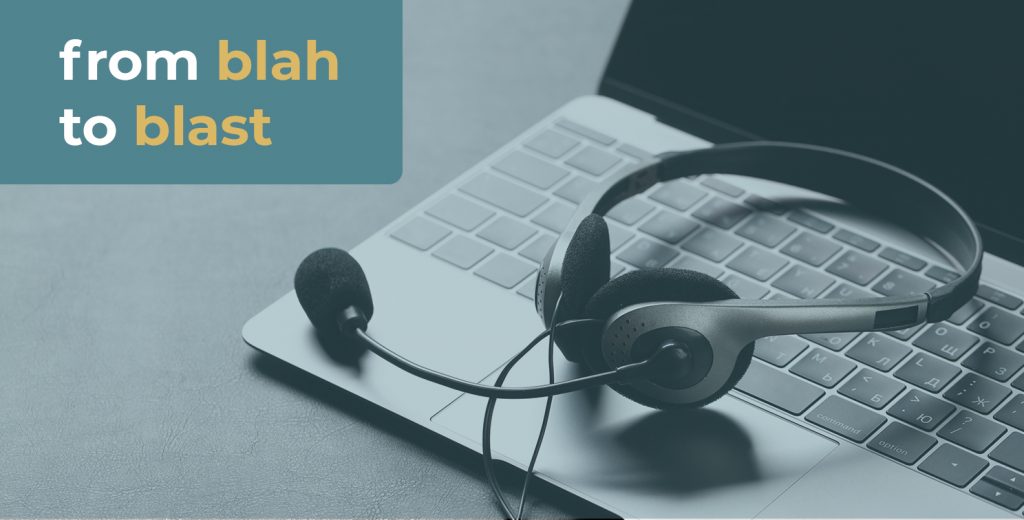 Let's see what sounds more interesting:
A panel discussion … or a choreographed presentation?
A monotonous moderator … or an entertaining emcee?
Talking heads … or a story told with vivid imagery?
Regular Zoom calls, meetings and webinars have their place, but they don't bring the sparkle of a glittering gala.
Think beyond a regular Zoom call, meeting or webinar if you're taking a major fundraising event, like a gala, into the virtual space.
There's no question: it can be tricky to replicate a festive party atmosphere online, but when you think outside the box and come up with a creative approach, you easily can take your fundraising event from blah to blast.
What's the difference?
Zoom meetings are like a conference table. Participants can collaborate, see who else is there, jump in with a comment and share screens to bring more detail to the discussion.
Zoom webinars resemble an auditorium where a large audience can watch and listen to the presenter or a panel. In this format, the host maintains control of the presentation. Guests are muted and their video is off, but they can type in questions. Think city council meetings, conferences, lectures and concerts.
The first hurdle is to get people to *want* to attend, and if your event sounds boring, uninteresting or half-baked, it's a much more difficult sell.
Obviously, online get-togethers can alternately produce snores or pure delight, and if your goal is to raise money, then aim to create an event that inspires your audience.
Here's what you need
What makes a virtual event really sing? And what do you need to lay the groundwork for producing an event that exceeds your donation goals?
Commitment

– The full support of your board, staff and volunteers, and a compelling theme tied to your purpose and mission.

Communication

– Present your well-defined objective with clear expectations, directions and one call to action, all in a way that is totally on brand.

Connection

– Bring key supporters and sponsors on board, use outcome-based videos to evoke emotion and spark meaningful engagement.

Coordination

– Plan every detail for a seamless flow, including event-specific website content linked to your online fundraising platform.

Campaign

– Create a comprehensive, multichannel promotion plan using a combination of digital, print and personal outreach that keeps supporters engaged before, during and after your event.
While a Zoom presentation can be an important component of your virtual fundraising, don't rely on the platform alone to be able to convey the spirit of your event.
Whatever platform you choose, come up with a creative approach to take your fundraising event from blah to blast.
xo,
Mary Ann