FREE PDF DOWNLOAD FOR NONPROFITS
Get your virtual fundraising event checklist
Is your virtual event ready for prime time?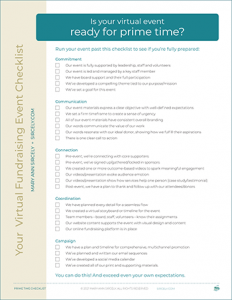 Run your event past this 26-point checklist to make sure you're fully prepared to present an online fundraiser that powerfully engages your supporters and supercharges donations.
Join me in approaching virtual events with a solid blueprint for success. After 30+ years of marketing experience working with hundreds of clients, many of whom are nonprofits, I want to help you and your organization thrive. Download my free checklist!
xoxo,
Mary Ann