Sircely Marketing and Design earned a major advertising design award in annual Astra competition sponsored by the New Jersey Communications, Advertising and Marketing Association (NJ CAMA).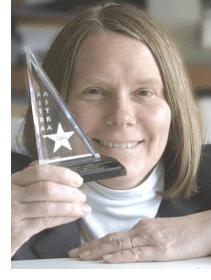 Mary Ann Sircely, owner and creative director of Sircely Marketing, received the Silver Astra Award in the category for black and white newspaper advertisements, size half page or less. The ad, "You're 55 Plus," was designed and produced for DeLuca Homes, Yardley, and features LakeView Estates and Fox Run Preserve, two Bucks County communities for active adults.
"We had a unique message to communicate to our buyers and you found the best way to convey it," said Jim DeLuca, vice president of DeLuca Homes. "The ad proved to be an integral part of our successful marketing strategy."
In earning the award, Sircely competed against entries from the largest and most prestigious advertising agencies in New Jersey and Eastern Pennsylvania. Criteria considered by the judges, a panel of advertising and public relations professionals not affiliated with NJ CAMA, included overall design and impact of the ad. The award was presented in ceremonies held at the Forsgate Country Club, Jamesburg, N.J.
Mary Ann Sircely is a writer and graphic designer whose company creates marketing materials and business communications that sell products and services for clients in a wide range of industries. Her expertise, developed during many years of journalism, graphic design and marketing, is the ability to use words, typography and graphic elements to capture the reader's interest. Materials produced include web site design and development, brochures, newsletters, direct mail pieces, advertisements, company logos and identity packages.
Sircely Marketing is a member of the New Jersey Communications, Advertising & Marketing Association, the Lower Bucks County Chamber of Commerce and the Central Bucks Chamber of Commerce.