FREE PDF DOWNLOAD FOR ENTREPRENEURS
Get the Seven Secrets of Sleaze-Free Marketing
If you cringe at the very thought of being considered
sleazy or sales-y when marketing your business,
you're in good company.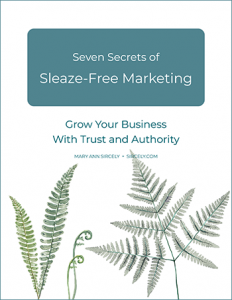 In the "Seven Secrets of Sleaze-Free Marketing," I show you how to grow your business with trust and authority, and without a hint of slime.
Join me in approaching marketing with honesty, integrity and transparency. After 30+ years in business, I know these techniques work. Download my free guide!
xoxo,
Mary Ann